Thank You!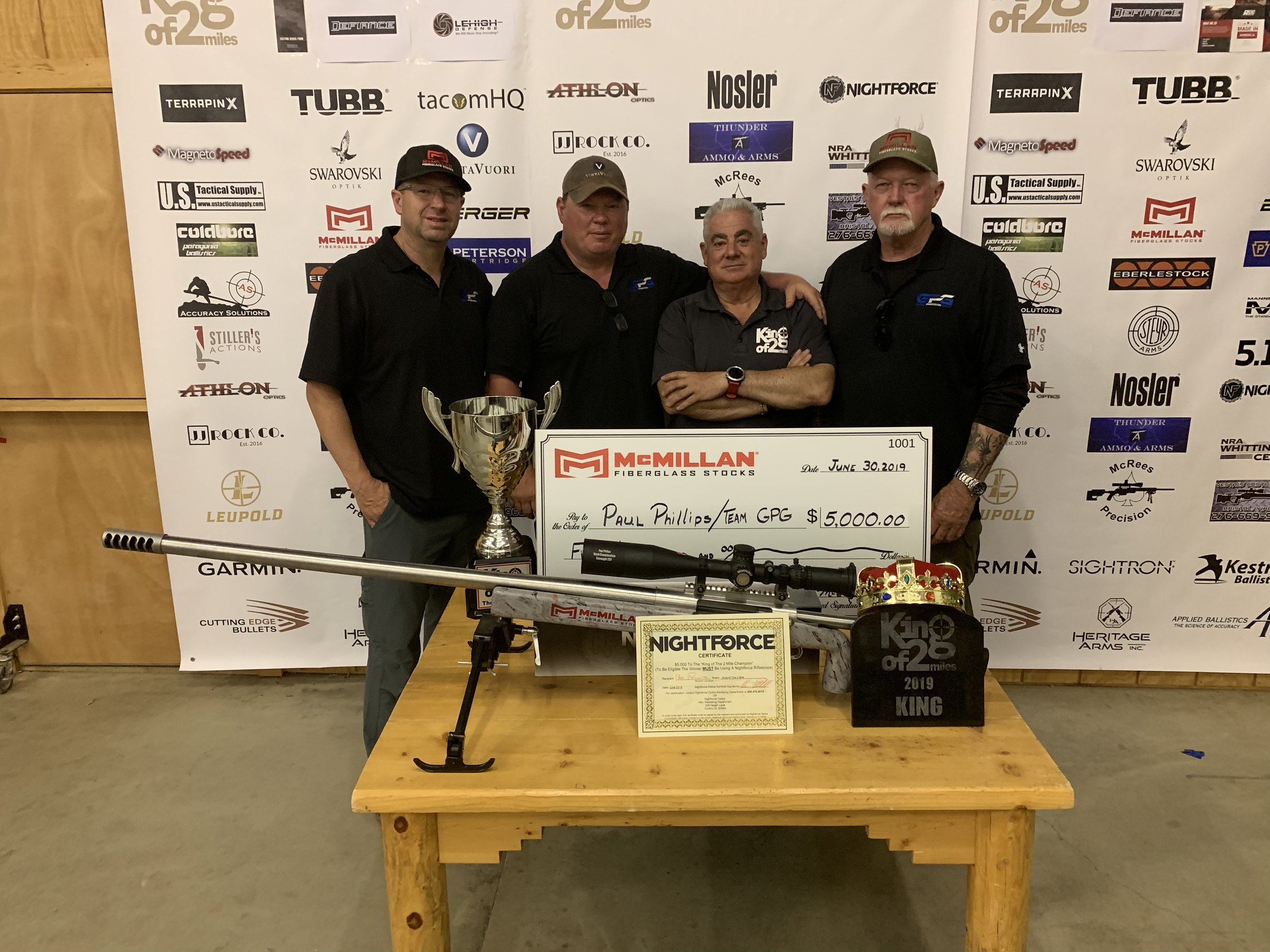 I just got home and wanted to take the time to say thank you to everyone. Winning the king of 2 miles will be one of the best competitive shooting memories of my life.
First and foremost my team mates Derek Rodgers and Mark V. Lonsdale. Our GPG team took 1st, 3rd and 4th together out of 80 shooters. Some of them are multi time national and world champions. It took all three of us to achieve this. If any one person makes a mistake the team fails. Our team put in the elbow grease by traveling to Las Vegas and the Raton NM 1.5 match this year and we worked on every aspect of the word TEAM. We tried a lot of things and made a lot of changes. We are always learning on how to be a better team and get a better performance. It's a continuous learning process. Our team won the king of 2 mile together.
Eduardo Abril De Fontcuberta, Alexander Cordesman and Walter Wilkinson. It's amazing how far we have come in the world of ELR and these guys deserve a lot of the credit. They work their butts off and deliver an amazing shooting venue. Their creation is going world wide. Thanks guys for putting ELR on the Map.
sponsors:
McMillan Fiberglass Stocks. Kelly McMillan and his family have been involved in producing the most accurate rifles in the world for the last 40 years. Their rifles and stocks have been attached to the military, law enforcement, hunters and competitive shooters all over the globe. Kelly consistently is thinking of ways to improve his products and he's not afraid to invest his time and money to help make better products. He's also personally invested and takes the time to listen to the end users on what they need. Thank you Kelly for everything.
Cutting Edge Bullets. Daniel Smitchko was the first king of 2 mile champion. He's not only an awesome shooter but he also makes the most winning bullet ever at king of 2 mile. His Bullets may not be the highest BC but they are the most stable and most consistent. The performance speaks for itself. Thanks dan for all of your hard work and amazing Bullets.
Applied Ballistics LLC. Bryan Litz is a world class shooter and is leading the way in the science of accuracy. I learned a lot about AB analytics and kestrels while being teamed up with Bryan and winning 2 king of 2 mile championships with his team. Team GPG is proud to be using applied ballistics solutions and accessories and adding a notch on AB's belt. Thank you Bryan.
Nightforce Optics has been on my rifles for 3 FTR Team World championships, 11 FTR Team National Championships, 2 ELR Championships and our 3.4 mile exhibition shot. Not much to say other then we use what wins. Thank you Sean Murphy and Alan Stilwell
Vihtavuori Powders. Has given us the ability to push our 550 grain Bullets with an extremely low single digit SD's which is paramount when shooting in ELR competitions. Thank you Adam Braverman and Emil Praslick
Bullet Central. We use bix N Andy triggers. They provide us the most consistent and best trigger I've ever used. I have several world championship gold medals with these and all my rifles have them. Thanks Nick Butze and Chris Harris.
Bartlein Barrels, Inc has been on all of our championship rifles. They continue to produce the most accurate barrels on the planet with great customer service. Thank you Tracy Bartlien and Frank Green.
BAT Machine Company Inc. makes incredible 50 caliber actions that give us superior accuracy. Thank you Bruce.
Holland's Shooters Supply. level is one of the best levels out their. We used this level and have won many championships with this level.
Barrett 416 rocks. This year it was used in the top 4 places. Their brass is truly amazing. We use virgin brass right out of the box and it shoots sub half minute with single digit sd's and no pressure. Thanks Chris Barrettand Darik Bollig
RWS primers. Dale Arenson provides us with high quality 50 caliber match primers. Thanks dale.
Manson Precision Reamers, David makes high quality reamers that are used by the top gunsmiths all over the world. Thanks Dave.
Garmin provided us with 701 and radios. We use the garmin 701 and radios for both ELR and Exhibitions. Their products work amazing. Thanks Greg Glass.
Kryptek Outdoor Group has provided us with some awesome clothing for hunting and also shooting. There stuff is high quality and comfortable. Thanks
Swarovski Optik Hunting BTX 95 is the best spotting scope available for ELR spotting. It has amazing clarity with a long eye relief. This is probably the most underestimated tool in ELR. If you don't see the spot it's hard to make an adjustment. Thank you.
RCBS makes high quality loading accessories. All my ammo was loaded on RCBS dies and press. Thank you.
GSL Technology Suppressors Gregory Latka makes the best suppressors in the world period. If you want the most accurate suppressor you want to call up GSL. They make cans for any caliber.
Peterson Cartridge Co Joe Coury makes premium brass for our 375CT and 33XC rifles. We are excited to have a relationship with them and look forward into celebrating wins with them in the future. Thanks joe
Alex Sitman, has been bedding competition match rifles for over 30 years. He is very meticulous and i feel it gives me the edge when trying to squeeze every ounce out of
A rifle. The biggest thing I've noticed is that my rifle keeps the same zero after breaking it down and putting it back Together during travel. Thanks Alex.
CROSSTAC mats are Awesome and this company caters to ELR and PRS. Thanks Bret Heidkamp
Labradar gives us our velocities to input our AB Solutions. We have to have good data. This is a necessity. Thanks
TARGETVISION makes great cameras to see and spot at long range and ELR. These are necessary when shooting long range. We use these to practice and also to hold matches. Thanks Clay Rhoden.
Edgewood Shooting Bags, Inc.. We use these rear bags for FTR and ELR rifles. They are very important to maintain consistent rear support.
Kestrel Ballistics we use the AB version 5700 is a tool we use 24/7.
Terminator Brakes. We use the T5 on our 416 Barrett's. They are very nice.
Marksmanship Training Center. Clare Ward provides an outstanding range for us to practice and do load development. If you want to shoot long range look these guys up. Thanks Clare !!
Christopher Palka for transporting all of
My gear from Raton to Michigan. This is priceless. Flying with our big guns is very difficult and expensive.
John Droelle and Raymond Gross. These are my home town shooting buddies that have taught me so much about shooting long range when I got out of the marine corps. Loading Bullets, competitive shooting methods and all the fine details about giving you the edge. Thanks guys.
Heather Phillips my amazing wife for supporting me with all of my shooting adventures. Thanks babe !
Tactiholics for the photos 🙂. Thanks Steve Lease